Manali-Leh Highway Tips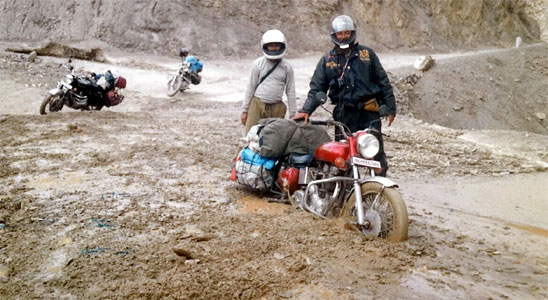 Come May and bikes will zoom into Manali announcing the start of the riding season to Ladakh, a season which would last for only four and a half months before the mighty Himalayas are again covered with snow.
Every year bikers from across the globe plan to ride on what is termed as one of the best routes to ride in the world, the 475 kms long Manali-Leh Highway.
The road from Manali is open from the month of June to mid October. For almost half of its length, it is over 13,000 feet. The route passes through five high altitude passes. The terrain is so high and so barren as to have no settled habitation. Infrastructural support is at a bare minimum. No repair or service stations after Keylong, no petrol pumps either. But this scenario on the Manali-Leh Highway gives the excitement of planning, adventure and bliss while riding and lifetime memories after the ride.
The Plan
There can never be a perfect plan to ride on this highway, simply because the road conditions are different every year owing to landslides, amount of snowfall, glacial melts and the progress of Border Roads Organisation (BRO), an Army support organization whose job is to build and maintain all roads leading to the Indian Borders.
Each individual or group of bikers have their own plan for the Manali-Leh highway; some want to do it in one day, some in two days and others have no specific plan.
Many bikers rush through this stretch, which is a crime. Manali-Leh should be done leisurely. Your first ever ride on this stretch will be the best; no matter how many times you ride on this road thereafter, you cannot beat your first experience on this route. I'm just jotting down a few pointers from my experiences so they might help you make most out of the Manali-Leh Highway.
Some riders plan a Kanyakumari to Khardung-La/Ladakh ride that is from the southern tip to the northern tip of India, or start riding to Manali from their respective cities.
I have done the latter myself only to realise that I should have saved the 5-6 days riding to Manali from Mumbai.
I now think it's better to start the ride from Delhi and use as many days and money I have for Ladakh for that's the real treat and not riding back and forth from home. This of course implies to riders who have a month or less time in hand for the ride. What I am trying to say is if you have limited days in hand, plan in such a way that most of the days are spent in the mountains. Load the bike in train to Delhi or Chandigarh and from there on start for Manali. There is no point wasting days away from the mountains and riding in plains unless that is what you really want to do.
Manali
Once in Manali, make sure you rest for at least a day not only to check the bike but to also acclimatize to high altitude. Manali is a popular hill station so in the summers it is filled with weekenders and tourists from all over India. It's better to start early in the morning to avoid tourist traffic (7-8 a.m.). That would mean tanking up on fuel, checking air pressure etc., the previous night.
The Manali-Leh highway is a roller-coaster ride of high-altitude passes, bad roads, landslides, glacial melts, broken bridges and what not. So don't mistake it for 475 kms on a normal highway and a single day's ride. Manali-Leh according to me should be done in three days if not more. Remember, one also has to deal with Acute Mountain Sickness (AMS).
As soon as one leaves Manali, the climb for Rohtang Pass starts. After 52 kms of continuous ascent you reach Rohtang Pass. After Rohtang, the road descends into Chandra Valley passing through Khoksar and then to Tandi, where the Chandra river meets the river Bhaga.
Tandi is the only village on Manali-Leh highway which has a petrol pump. The next petrol pump is 365 kms away in Leh. Interestingly the petrol pump is owned by Lahul Potato Growers Co-operative Society (since the region is part of the ancient trade route; potatoes from the Lahaul Valley played an important part in the barter and trade with locals of Zanskar and Changthang). That is history, but today one needs to tank up at Potato Petrol Pump and also carry extra/spare fuel according to the make, tank capacity and mileage of the motorcycle. It is advisable to carry extra fuel since most of the time one is riding in lower gears and taking frequent stops, and the quality of petrol is also not assured.
First day's stop
Jispa, Keylong or Darcha, all are approximately 35 kms from each other after Tandi. Jispa has a huge luxurious hotel. Keylong, the only major town on Manali-Leh Highway has less luxurious but concrete hotels and guest houses. Darcha (where I usually stay) is a temporary tentship where one gets a chance to interact with locals, listen to the Bhaga river flow, experience the chilling cold and perform morning duties out in the open.
Jispa is luxury, Keylong is the only major town on Manali-Leh Highway, Darcha is a temporary campsite put up by locals; you can take your pick.
Some riders stretch the first day's journey upto Sarchu which is another tented accommodation and 120 kms further from Darcha. But I like to keep Sarchu for next day's ride for the sheer pleasure of enjoying my journey.
Day 2
Halt at Sarchu, just 120 kms into the ride from Darcha. But the small distance is a pure bliss of bad roads, streams, freezing temperatures, breathtaking landscapes and of course, headache from AMS.
To reach Sarchu, one has to cross Baralacha-La pass at 16,500 feet. Baralacha-La is the place where most travellers encounter symptoms of AMS, usually accompanied by headache, nausea, dizziness and vomiting. One also has to deal with innumerable streams running with freezing cold water from snow capped mountains.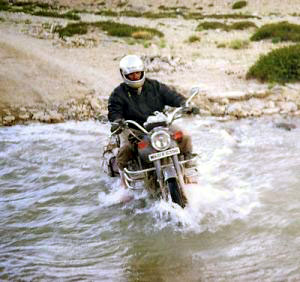 The road before Sarchu is also the worst patch on Manali-leh highway on any given year and also with maximum streams flowing untamed on the road.
After descending from Baralacha-La (actually the whole Manali-Leh Ride is riding up and down from one pass to another) you will get a small tented accommodation at Bharatpur and subsequently at Sarchu, where you have high profile tents with attach toilets to very basic tents put up by locals.
Lot of travellers cross Sarchu and head for Pang, another temporary tented accommodation, but I don't recommend it. To reach Pang one needs to cross two more high altitude passes, Lachlung-La and Naki-La. The 15 kms of road before Pang is also in a bad state. I hope you are not saying just 70 kms, big deal! Apart from the human body suffering from symptoms of AMS, the motorcycle will also under-perform owing to the low oxygen levels.
Like all travellers I too have a headache so I prefer to stay at Sarchu and not exaggerate symptoms of AMS and fatigue and ride through two more high altitude pass to reach Pang. No doubt, it can be done. But I suggest Sarchu as an option since with a headache and giddiness, I doubt if anybody would enjoy a ride. So why waste riding through beautiful landscape without paying attention to it just because you have to reach Pang and clock more kilometers?
Wherever the second night's halt; at Sarchu or Pang - it will be a sleepless affair. Lots of tossing and turning in the bed and hoping for an early sunrise. Come dawn and the headache mysteriously goes away. The average human body is reasonably acclimatised now.
One night at Manali, second enroute Sarchu, either at Jispa, Keylong or Darcha and third at Sarchu. The worst and best part of Manali-Leh is over :-) All the more reason to choose Sarchu over Pang, because from now on, you will enjoy the ride till Leh without a headache or symptoms of AMS; that is, if you still follow the golden rule of spending less time at high-altitude passes and not over-exerting.
Day 3
The best ride on Manali-Leh is also after Sarchu. After Sarchu, the state of Jammu and Kashmir starts and soon the Gata Loops happen - a succession of 21 hair pin bends lifting you 1,500 feet higher. And soon after, the Lachlung-La and Naki-la passes follow before one reaches Pang.
The road after Pang rises onto the More Plains, 42 kms of well tarred road, which is a welcome relief. After More Plains the climb for Tanglang-La, the second highest motorable pass at 17,582 feet starts. This is also the last pass on Manali-Leh highway. After the Tanglang-La descent, small villages, green fields and "JULLEY!" - a greeting in the Ladakhi language will add life to the relative straight road to Leh.
Leh can be comfortably reached at a leisurely pace from Sarchu in a day, but some travellers extend the ride even further and stay at villages or tented accommodation after the Tanglang-La descent. I envy them for the time they have in hand.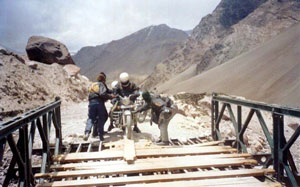 I divide my Manali-Leh ride in three days, for that is the kind of riding I like, at a leisurely pace, not stretching a day's ride so that the next day gets affected. I divide it in such a way that I can enjoy the maximum time on this beautiful stretch of highway not worrying about AMS. One can still do it in two days, but i don't see the fun in it. Manali-Leh Highway is tough, but that's the fun part, don't turn the fun into an adrenaline rush unless you are participating in a rally. Stop where ever you feel like, enjoy every moment of it - there is no other highway in the world that exposes you to such beauty that you are at loss for words. Do it solo or with a group of bikers you are comfortable with. Take it nice and easy in minimum three days, especially if you are on the Manali-Leh Highway for the first time. And of course, make sure it's on a motorcycle.
Best time to ride on Manali-Leh Highway
The Manali Leh Highway is open to vehicular traffic for only four and half months. BRO starts clearing snow and rebuilding bridges from May onwards. This is the general practice, but the opening of the road usually depends on the amount of snowfall the region has received through winter. Mid-June is a good time to start if you like to see snow on the passes, experience bone chilling cold and ride on rough patches. By July-August, snow on the mountain tops is less; BRO would have repaired most of the portions on the highway and the temperature is bearable. By early September, the road is in a near perfect condition. But all the above applies for a normal season with no sudden weather changes, which is not the case every year, and that's the best part. That's where adventure comes in the journey and this is what makes each kilometer on the 475 kms Manali-Leh an experience of a lifetime.
Trip essentials
A list of thing to carry for a motorcycle ride varies from person to person, I'm just stating the basics. One can add according to his/her style or habit.
Clothing: Thermals, Gloves, Woolen Socks and Balaclava are a must to combat the cold. Rather than a single layer of thick clothing go for 2-3 thin layers of clothing.
I would also suggest Rain gear. It not only cuts the wind and makes up for an extra layer, but inspite of being a high altitude region deprived of rainfall, it does ocassionally rain on Manali-Leh. Rain gear in such cases becomes a life saver.
Always water-proof your luggage. Apart from water, it also keeps the dust and slush out.
Crossing the streams running with freezing cold water is fun for some but irritating for others, but it's a nighmarish experience to continue riding after getting feet soaked in the freezing water. To counter this, either carry a spare pair of shoes, which you can wear after the first pair is soaked, or remove your shoes while crossing the stream. If you choose to remove your shoes, walk with the bike rather than ride it through the stream, just to avoid injury.
You can find more detailed trip essentials here.
You can read more about AMS here

My take on AMS is to not think too much about it and enjoy the landscape, spend less time at high altitude passes, drink lots of water, avoid smoking and consumption of alcohol and not to over-exert.
HAPPY TRAILS,
Gaurav

If you wish to add more tips which are not mentioned above, kindly e-mail them at theride@60kph.com. We will gladly add them to the list.