Khardung La: World's Highest Motorable Pass

I had a very easy image of the pass as per the feedback I got from fellow riders. Information comprised no dirt track, all tar road, quite wide, not very steep climb, 60 – 70 kph is attainable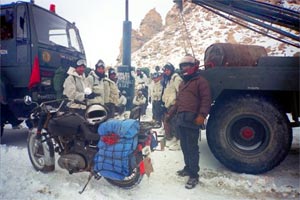 and so on and so forth. But heavens, perhaps, wanted to tame me to the core. Chang La experience forewarned me of the imminent struggle that I had to put in for scaling K-top. Yes! It was a cloudy morning. We made ourselves optionless and there we were, waiting at South Pullu for the gate to open. You can estimate our resolve by the facts that we did not budge from the gate for almost three hours and heavens determinedly poured every possible phenomenon over us. Actually, heavy snowfall was ensuing at the K-top and one truck was messed up on the way. That held up the traffic from both the sides. Behind us a Military convoy of around twenty trucks headed by Major's jeep was also waiting. Serpentine queue of private taxis, jeeps and cars along with a handful of two-wheelers, all suffered that day. Bikers and scooterists faced the wrath of weather the most. What bothered us the most was the fact that at 1:00 pm the Leh bound traffic from North Pullu is released so K-top (Nubra/Siachen) bound vehicles waiting at South Pullu will have to return back. Like at Chang La, Heavens finally had mercy over our plight and the way was cleared for upto small cars and trucks were told to go back to Leh. I did a small mistake which grew bigger with every passing meter. Since I was first in the queue so I revved the bike, cutting the dropping snow flakes and braving the unrelenting cold. Mistake was that since I was first so the snow on the road was fresh and not cut by the tyres of four-wheeler. Bike started skidding dangerously and snow layer on the road went on thickening with the distance and altitude. I totally dispensed with brakes and removed my leg from there. Revving the bike in first gear seemed easier on both inclines and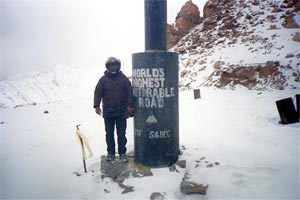 declines. So we rode with lots of noise but I stuck to gears. Such a beautiful snowy landscape appeared our biggest enemy. Once, on the way, at a turn, the road was totally messed up and I had to apply brakes. We got the fruit and Manish came off and bike slanted on the carriers. We huffed and puffed for air but there wasn't much. Anyhow we managed to clear the way before the trailing vehicles could honk us aside.

Reaching first to the top meant several advantages and we availed them. We chose a good area to park the bike where snow was minimal and with no botheration of vehicles in front, jamming our way. By the time other vehicles started pouring in we were through with two snaps. As I tried to walk up on the snow to the higher reaches, I realized I was going down. I would go down neck-deep in that kind of snow heap. Nobody seemed to be interested in free tea there. Everybody seemed all encompassed with fear, puffing for more air and trying to stabilize himself/herself. Listening the giggles of two ladies we dropped the idea of reaching a bit higher for better view and instead opted for the show the two young ladies were putting up for the lucky audience. They were playing with snow balls with each other. Every one amongst the audience was amused but the show didn't last long as it was time for releasing vehicles from other side.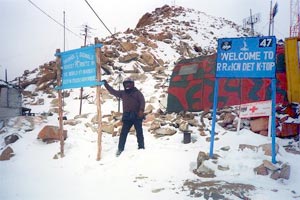 We then interacted with a team of ITBP jawans who trekked up from North Pullu up to K-top. Before the K-top could get glutted with vehicles again we were back on snow on one of the most hair-raising rides I ever did. My goodness, first gear seemed grossly insufficient to hold the accelerating bike and I wanted a half gear ;~) I mean a bigger cog. I was damn scared. It seemed like our life was at stake. Rear tyre was not stable at all and kept swinging and slipping. Manish held me even tighter. The fight didn't last long and much to our relief we crossed the snowline safely. Switching to thanking mode we bade goodbye to Khardung La Baba.