Kashmir - The Bliss

I was surprised to have a view of snowy peaks glistening with morning sun rays from our hotel. Season's first snow is already here, we thought, with a twinkle in our eyes. I tightened the chain by one tooth and serviced the bike. After a sumptuous breakfast, we were off to Kashmir. Bypassing Jammu on a picturesque Samba – Udhampur route took us to the serene waterscape of Mansar Lake. But we had to reach Srinagar by evening so after crossing Udhampur and negotiating several hairpin bends we made a steep ascent to the picture-perfect Patnitop. The place offers cool environs and sylvan landscape with coniferous trees covering the whole area. One major grouse of riding on this route was getting stuck in between the Military Convoys. They grabbed all the road and we almost did not ride alone at all. Either a Military truck was before or behind us. We crossed 2.5 km long Jawahar Tunnel at 5:00 pm and had the first glimpse of Kashmir Valley. Ahoy! We were in Kashmir, welcomed by riveting scenery of a sprawling valley beckoning us with mountains stretched far at the horizon.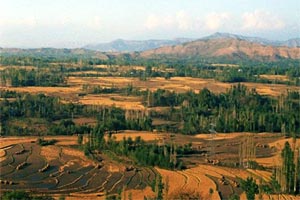 To lech at the scenery I brought the bike to a halt near one of the Military Jawans. Oh Man! They are standing after every 100 meters on the highway. The 'Jawans' informed us that their breakfast, lunch, dinner and tea (twice) are delivered to them right there. Responding to my query on the beefed up security, he narrated a recent incident of militants on a killing spree. But what we were stunned by was not the terrorism but the awesome grandeur of the valley with profusion of color, a gradient mix of brown and green in particular, and the Chinars, Poplars, Willows dotting the cultivated land.
Riding at an unhurried pace, we both were enjoying the cool scenic countryside and the saffron fields of the valley. Suddenly, on my right, I spotted some ruins. We took a break to check out. They were the ancient ruins of 9th Century Avantilokeshwara Temple Complex built by the King Awantivarman. The temple complex, though in ruins, has not lost its grandeur with two magnificent, massive temples dedicated to Shiva (Avantiswara) & Vishnu (Avantivishnu) standing as mute testimonies to their heydays. While the former has only the plinth and surrounding staircases left to it, the latter was in a better preserved state with imposing roofless walls on a high plinth to which wide staircases lead. We, though, couldn't find any statue of the deities. Interestingly, I took four snaps of the place, including one with me in the frame but all of them remained underexposed. Strange!
The Srinagar highway from Khannabal is very dusty all through barring few patches. Commercialization of the land beside the national highway has deprived the area of its pristine beauty. As we touched Srinagar, heavy security replaced the scenery from our minds. At one stretch, as we were about to enter the city, we were asked to shut off our headlights. Unlike no one, we complied. It was pitch dark and all the vehicles were moving with the help of backlights of the vehicles in their front. Our inceptive euphoria was stifled as we negotiated the unruly traffic, while dust kept piling on us. This was far from the Srinagar we imagined. By the time we reached Dal Gate it was 8:00 pm and we were hungry like beasts. We decided to scour down a nice houseboat for the night and then log in to an eating joint. Dal is a beautiful lake and reflections of distant lights from the water surface gave us a welcome respite from the city pollution and dust. In fact, it elicited a magical reaction from both of us and we were off our feet. We haggled for one dream-home-houseboat for the night and got a deal. The very next moment saw us onboard a 'shikara' rafting towards our magnificent night halt. To our dismay, like Srinagar city, lake was heavily littered with dirt and decaying organic matter taking its toll on the cleanliness of the lake. With the increase in the dumps, lake area is decreasing at an alarming rate, jeopardizing the lives of a unique community, economy and beauty of the city.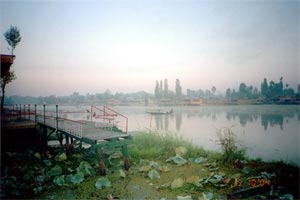 Why a houseboat and not a hotel? Well! As many travelers put it, "If you have not done houseboat, you have not done Kashmir". People residing in houseboats are not only just living on the water, but they are commuting, selling, buying, drinking, eating and doing all sorts of mundane things…..on the water, isn't that amazing? Not merely! In fact, it is a unique community who developed due to the excellent network of erstwhile Vitastha (now Jhelum), waterways and lake system of the valley. Believe it or not, houseboat dwellers do farming on the lake. That is a sight to behold with fresh vegetables floating around and flowers in full bloom. Houseboats flourish because of their uncommon, serene experience and they provide business to many associated people like 'shikara wallahs', 'flower wallahs', 'chai wallahs', 'saffron wallahs', 'cloth wallahs', so on and so forth. Houseboats can float on the lake but generally don't because of their sheer size and since they are not motorized. They have their moorings down at one location. These boathouses have ritzy interiors and are richly embellished from inside. Elaborately carved wood, sweet dim light and all the luxury (refrigerator, TV, etc.) in-house, they provide quite a royal experience. It takes around 24 months of hard labour to build one houseboat, which actually amounts to around four years, keeping in mind only six month's working season. Our houseboat, built at a cost of Rs. 25 lacs, made quite an impression on our minds. Settling down in our plush room after a 'shikara' ride for the dinner, we discussed about our ride so far. Later, while snoring to each other, we dreamt about the wonderland, the Ladakh.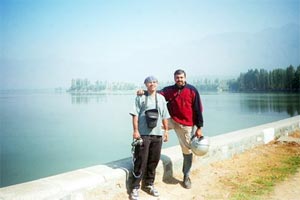 We both rose early to capture some morning reflections, activities and of course, the sunrise. As the early morning mist vaporized, we were gifted with some stunning views. Morning sun appeared in all its glory setting ablaze the 'char chinars' in a heavenly aqua-setting. We couldn't leave the quasi-deck of the boat, while 'shikaras' of all sorts and loaded with all sorts of stuff engaged in their routine up-down 'voyages'. Our cameras kept clicking till we realized we were past 15 shots (cumulative count). So! It was time to leave…..leave our beautiful home…..home on the water. One night stay in the houseboat is just insufficient to relish the experience it offers.
But we had to cross Zoji La and so we were once again astride our mobike, gleaming with our wonderful houseboat experience, ready to take on the challenge waiting for us at Zoji La. We found our way out of dusty alleys of Srinagar and its suburbs in about an hour's time. After that it was a joy ride. Kashmir's countryside still reflects what it is famous for – unparallel natural beauty – A very broad valley in the shadow of distant but mighty mountains with intensely cultivated fertile land, peasants winding up the crop season to hibernate through the harsh winters, gurgling streams with icy cool waters, tall chinars in the 'fall', a mouthful of scented crisp air, the long, majestic, tree lined vistas and the rosy-cheeked kids frantically waving – all this made the journey all the more enjoyable. We with our joie de vivre landed on the golden meadows of Sonmarg at around 12:00 pm. Sun shining bright, we were blessed with some great views of the sprawling meadow girdled by magnificent snow-capped peaks while the river flowed far down below at a distance. A thick stand of alpine flora adds to the timeless charm of the gateway valley. We took a few pictures, got ourselves a mandatory registration number at the Police checkpost and resumed the onward journey. A 3 km long road bisects the valley and, along the road, there are a few good resorts/hotels offering plush accommodation. The last kilometer is the actual township. The left side of the road has been occupied by the restaurants offering Punjabi and Kashmiri cuisine, a few shops of essential commodities and music shops. On the right hand side lies the Bus-stand and few hotels for the budget travelers and Amarnath yatris. In fact, due to 'Amarnath Yatra' accommodation facilities have improved here but if camping is what you believe in, Sonmarg is the place to look forward to in the Kashmir valley. Going past the local Police station, we crossed a small, narrow bridge to start our ascent for Zoji La. Few meters after, we were asked to deposit the permit (mentioning our registration number) at the military check post. Then we were not bothered and kept on ascending, moving past the bifurcation for the Amarnath cave at Baltal. Roads are in an excellent condition but we never knew we are headed for an anticlimax pretty soon. As we approached Zoji La, smooth tar road gave way to a rough, uneven, dusty track on which dozens of trucks looked stranded waiting for their turn to pass the 'Pass'. As we took the hair-pin for that track, I lost the balance of the bike and it leaned towards the mountain, forcing Manish to come-off. After quite a struggle to put the loaded bike back on the track, we managed to take it aside. Few military jawans enjoyed our plight. They suggested us to take the older route for the 'Pass' as that will save us from getting stuck behind the dust-sprinkling trucks. We complied but it was one hell of an alternate route. Although we did bypass the excruciatingly long queue of trucks but we had a hair-raising ride on an extremely bumpy track that took us through the region's most infamous 'Pagal' landslide area. The track is a dust-bath and is frighteningly narrow. After quite a struggle-filled ride we rode past the Zoji La landmark.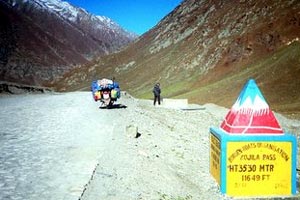 I will sum up the Zoji La experience by mentioning that its approach roads from both the sides are no less than a nightmare and should be forgotten as soon as one is through with it. We took a hurried pit stop to 'icify' our victory over the 'Pass'. Being the lifeline of the Ladakh, this highway is very important and sees a major traffic for eight to nine months in a year. In between Sonmarg and Leh, out of the two major townships of Drass and Kargil which shot to fame with their involvement in the recent war against Pakistan (1999), former is a relatively small but green due to the tree plantations.
At Drass, we also enjoyed a good view of majestic Tiger hill standing proud and 'visibly pleased' to have so many Indian armed men guarding it. Drass also happens to be the second coldest inhabited place on earth (60 degrees Celsius below 'zero' on January 9, 1995) after the Siberian villages of Verkhoyansk and Oymyakon. 60 kms eastwards lies the dusty and cluttered township of Kargil, the district headquarter and the second largest town after Leh in Ladakh. Drass-Kargil section road was narrow, uneven and full of pot-holes. Roads are in a bad state upto Kargil and this can be attributed to the fact that administration is not able to keep pace with the burgeoning traffic and heavy snow build-up in the winters. Presence of the armed forces never dwindles and they have done a commendable job in securing the area, in spite of all natural and man-made odds against them. It took us 2.5 hours to negotiate that stretch of an overall descent from 3300 m to 2704 m. PWD rest house in the town is the best place to halt at but unfortunately due to a minister's visit, the otherwise empty place was packed to the hilt. After checking a couple of not-for-budget-traveler hotels and wondering who pays them Rs. 400 for a room, we finally checked-in on a roadside budget hotel. It was already 8:00 pm and when we came out of our room to search for an open food outlet, we stumbled on a 'Sardarji's' shop on the highway. He informed us that he is the only sikh operating a shop in the town and has been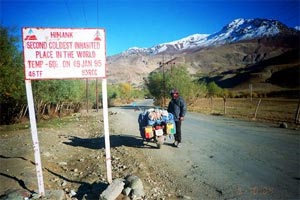 around for last 35 years ever since he migrated from Punjab. Relishing the jokes and anecdotes of this unique 'sardarji' over a 'dal-rice' plate, we had a good time hearing the Kargil stories from a no lesser veteran. The way 'Vitastha' relates to Jhelum, 'Purig' relates to Kargil but Purig included other nearby regions as well, including Suru valley. Like a few small towns after Drass, houses at Kargil are reminiscent of Turk architecture. I found the history of 'Purig' quite interesting and felt proud to stand at the place which has been an important stopover for hundreds of caravans moving between India, China, Turkey and Afghanistan. Then we made few phone calls to inform our families and 60kph group about our whereabouts and the ride so far. Wanting to do a little bit of more wanderings we could not resist succumbing to the comforting alternative of sliding into our sleeping bags to beat the biting cold. "Good night! Doze off….it is 12:00 am already", we said to each other.