CHERRAPUNJI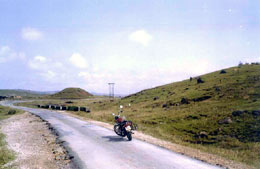 Ride from Shillong to Cherrapunji has to be one of the best rides in this country. After riding through steep roads in the forest, the mountains gives way to plains and a valley side road takes you to Sohra, also known as Cherrapunji. Clouds gave us company all throughout the ride, the landscape changes fast because of the cloud movement rendering you an ever changing view.

Cherrapunji is a quite town near the Indo - Bangladesh Border; it was the summer capital during the colonial rule. Big stone monoliths and old graveyards everywhere give character to the hills in and around Cherrapunji.

Cherrapunji has several waterfalls which are not only magnificent to watch, but the ride to all these falls is superb.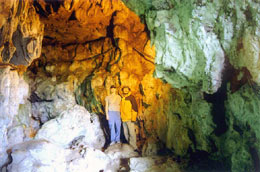 Mawsmai caves near Cherrapunji is an experience in itself, the limestone caves are well lit up by the Meghalaya Tourism, but if you want to thrill yourself more, climb up to the caves which are not lit up, they are guaranteed to spook you as one has to crawl their way in. Staircases can also be found inside as they were used while exploring the caves, nice place to play hide and seek, don't forget to carry a torch though.
Cherrapunji also receives the highest amount of rainfall in a year; Average rainfall in a year in Cherrapunji is 12063 mm (40 feet).
On 16th June 95, it rained 1563 mm in 24 hours, that is 5 feet of rainfall!

But recently Myswram, not that far from Cherrapunji has the title.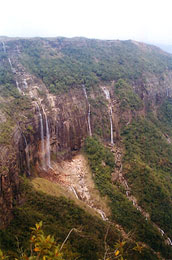 Amidst all the beauty in Cherrapunji, there is also a backlash against the government. Anti-government slogans can be seen on the streets, one said, "Justice delayed is justice denied." Drastic ones said, "Give in to our demands or face the music."

The reason for the backlash according to a Magistrate I talked, was that people have no choice but to take government jobs because there is no other way of earning a decent living.

Another problem is big firms hire workers from Bangladesh and Bhutan who illegally enter India and work on low wages.

People don't get Doordarshan here, instead they see Bangladesh TV, so kids here think that Khalleda Zia is the Prime Minister of India.

Sad but true events.


Cherrapunji is home to Khasi tribe.

Khasi script can be said as the youngest script, it was born in mid 1800's. The first Welsh missionary Rev. Thomas Jones and his wife Anne Jones arrived at Cherrapunji on 22nd June 1841. Rev. Jones is revered as the father of Khasi alphabets. He introduced the Roman script for the language.

Rev. Dr. Roberts from Wales single handedly translated twenty-three books of Old testament. He is honored as the father of Khasi Literature.

The script uses English alphabets, so a look at the newspaper will temp you to read it but after a few minutes when nothing makes sense you will think you had too much to drink last night J
Apart from the English alphabets the script has two more alphabets, a hyphened n and i with two dots.

One funnier side, MEN in Khasi means ROCK :) the female readers won't be surprised as they too use the same term in English, of course I am referring to the brain and nothing else.


^Top